Fair Stream and West Lake On Water Park For Children
Vietnam has two representatives on the list of funny water parks for children by Buzzfeed; of which Fairy Stream was rank 10th and West Lake was rank 14th.
Readmore: ha noi vietnam where is most exotic, arguably the best place in the country to enjoy street food and culture
Happy Magic Water Cube, Beijing, China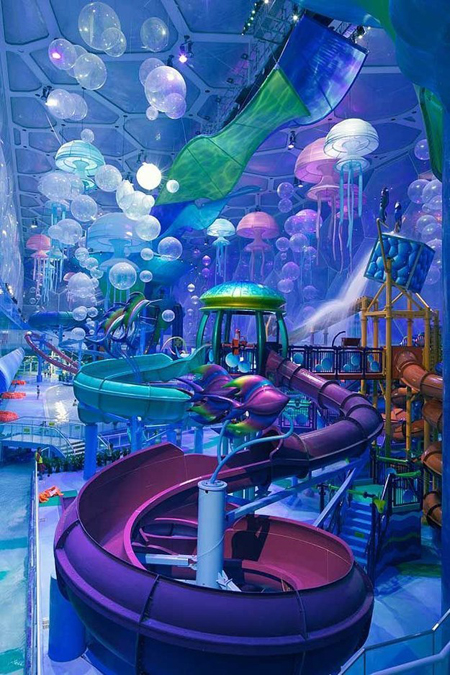 Water Cube had been a sport center in Beijing Olympic 2008. Nowadays, this is a favorite indoor and outdoor water park in China. The entrance ticket is about 24- 32 USD, depending on customers' height.
Readmore: The third largest city in Vietnam, danang vietnam is your best destination which makes it a perfect stop point for those holiday
Evergreen Wings & Waves, Oregon, America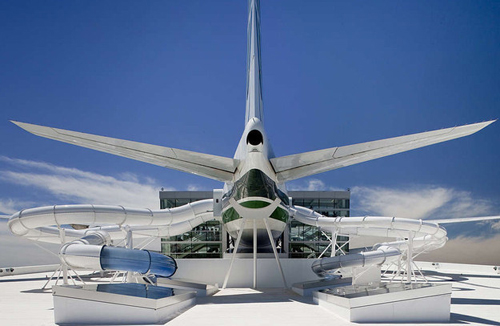 Here, customers will try the feeling of escaping away an airplane because the park uses a Boeing 747 as a slide house down to below swimming pool. The ticket costs 12- 32 USD.
Readmore: If you're wondering what to do in vietnam, and where to start, Hanoi is a good destination for your starting
Schlitterbahn South Padre Island, Texas, America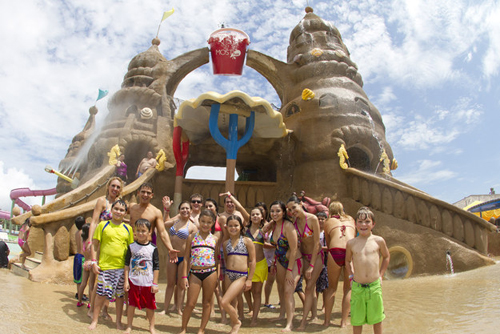 Schlitterbahn l is a complex of many unique water parks, not only provides entertainment activities but also relax services with hotel system and resort. The most considerable thing here is South Padre Island where there is a giant sand palace built inside the park.
Città Del Mare Hotel, Italy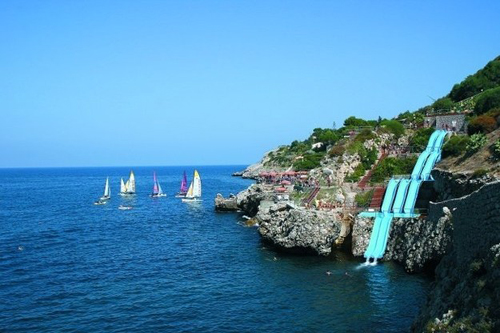 Situated on Sicily coast, the resort Città del Mare makes customers breathless when sliding on tubes down to Mediterranean sea. To experience this feeling, customers must stay at Città del Mare at the price of 200 USD.
Avalanche Bay, Michigan, America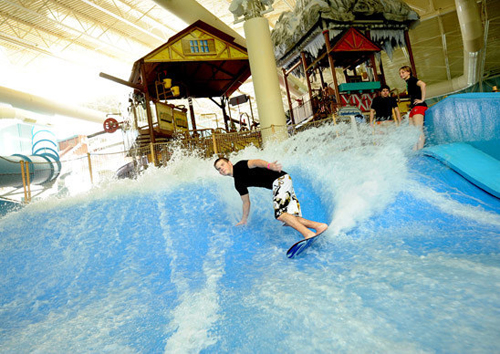 Customers will experience in surfing indoor waterpark Avalanche Bay like on ocean. Fares are from $ 10. Opening hours is different in days of week so you need to check before planning.
Chimelong Paradise, China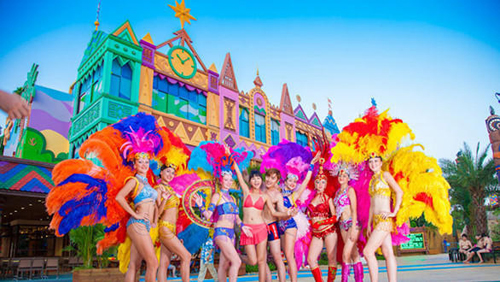 This colorful water park is well-known for water somersault program. The entrance ticket is about 12- 32 USD depending on hours and height.
Hersheypark, Pennyslvania, America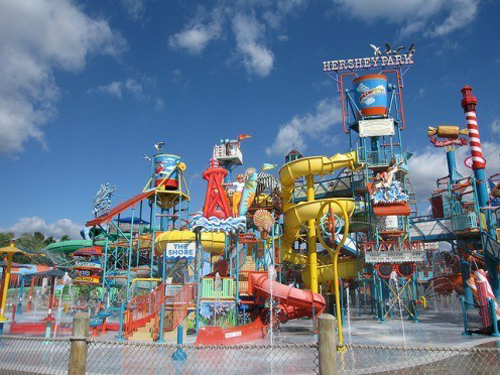 Aside from rollercoaster, Hersheypark is also a famous park with spectacular sliding tubes. The entrance ticket is from 24 USD.
Atlantis, The Palm, Dubai, United Arab Emirates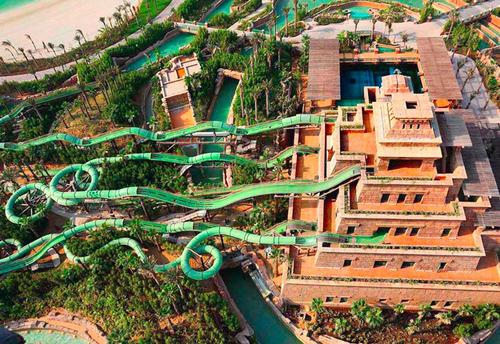 This complex is used for families with ranges of underwater rooms and spiral waterslide that runs through the entire park. The entrance ticket is about 55 USD per person.
Splish Splash, Long Island, New York, America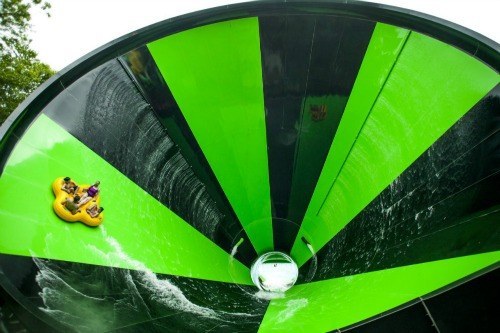 This water park is an amusement park that is suitable for the entire family. Not only adults but also children coming here experience thrilling and safe games. The entrance ticket costs  42 USD (adults) and 32 USD (kids).
Fair Stream, Vietnam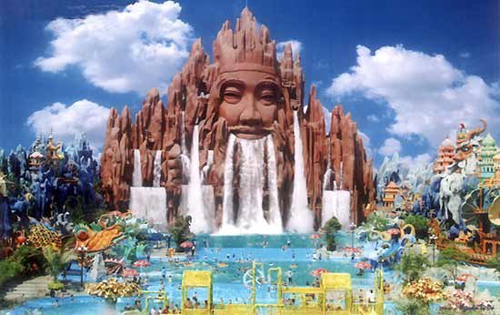 Tien Dong – Ngoc Nu sea is one of the best places in the cultural park Fairy Stream, especially in hot sunny weekend. Here visitors will swim in the cool blue water and explore the fascinating artificial cave. The entrance fee to Fairy Stream is VND 40,000 for children and VND 80,000 for adults, Tien Dong Beach is about VND 40,000- 60,000.
Great Wolf Lodge, Washington, America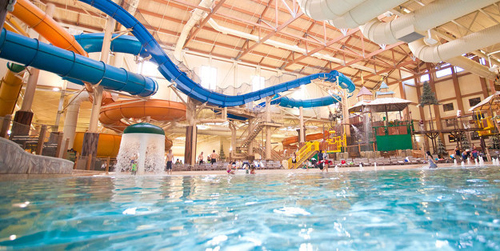 The complex of hotels and water park Great Wolf Lodge was built in many places across America but Grand Mound is the suitable destination for the whole families. It has an indoor water park and fun activities for young children both under water and on shore. A night at Great Wolf Lodge costs from 159 USD.
Disney's Typhoon Lagoon, Florida, USA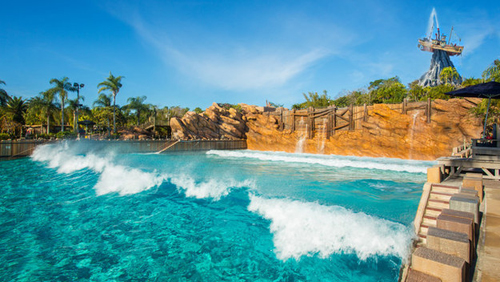 Shipwreck theme park in Orlando gives surfing lessons and fun experiences as other traditional parks. Entrance fee is 45 USD or more.
American Water Park, Minneapolis, USA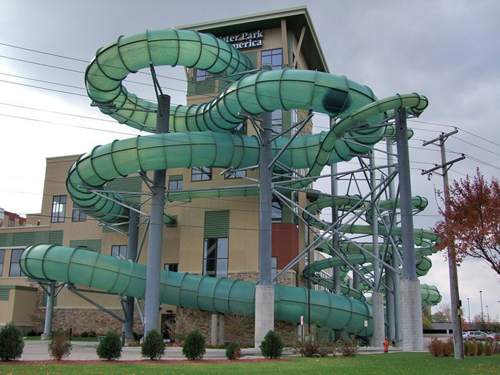 This is an indoor water park with spiral waterslide pipe surrounding main works, brings a unique experience. Ticket price is from USD 40.
West Lake Water Park, Vietnam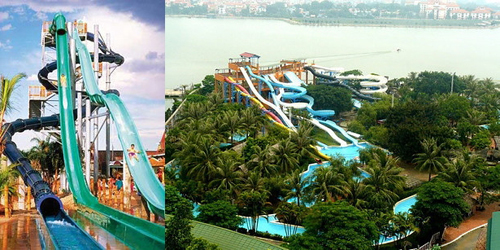 Located next to West Lake, the park has liberal and airy views. Children can both play in cool water and participate in many games like roller coasters, merry-go-round, etc. in Moon Park. The ticket for water park is from VND 130,000.
Wet 'n' Wild Water World, Australia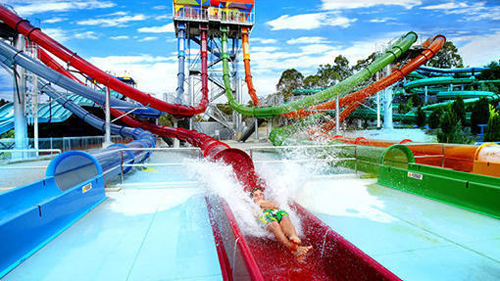 Zipline is one of the most exciting experiences of the park Wet 'n' Wild Water World in Queensland. The entrance ticket is from USD 5 to USD 23.