Hoi An Grilled Pork (Thit Nuong)
Hoi An  Viet nam is well known as the UNESCO World Heritage with well-preserved architecture and become a top tourist destination in Viet Nam. However, lots of people come here not to only visit the old buildings, the traditional Asian trading port which has been completely and assiduously preserved but also to try special local food. Hoi An street food in particular plays an important role in building special cuisine culture of Viet Nam. One of special street food you should not miss out is Hoi An grilled pork (Thit Nuong)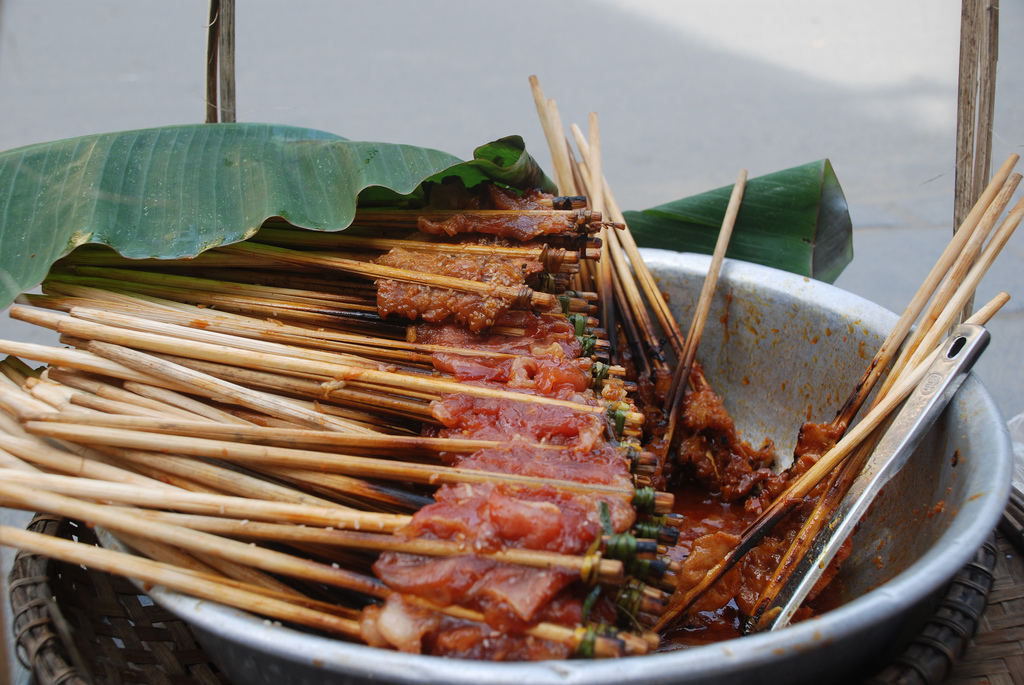 What is Hoi An grilled pork Thit Nuong ?
As we know, pork is one of the most commonly consumed mts worldwide. People take advantage of every part of the pig and pork tripe is not an exception. Grilled pork tripe is the tripe from the pig, which is grilled with turmeric, lemon grass, garlic and some spices. People can make variety kind of dish from pork tripe such as boiled pork tripe, fried pork tripe. However, grilled pork tripe is a favorite one. This dish is served for everyone at every age group as a dish eating together with rice in family meals or simply alone. Especially, it is a favorite one like a snack to eat when drinking beer or wine. It is the food for all seasons with reasonable price for everybody. This dish is usually served with fresh sliced cucumbers and tomatoes.
Read more thing to do in dalat
What make Hoi An Grilled pork tripe Special ?
Eating grilled pork tripe is really an interesting experience with the sensation of toughness, sweetness and also softness. The spicy flavor of chilly, pepper and lemon grass combining together with all the feeling of the pork tripe make the food more tasty and attractive. As a consequence, you cannot resist to an appetizing plate of grilled pork tripe. You will not be able to find this food in any restaurants in Hoi An but street food stalls.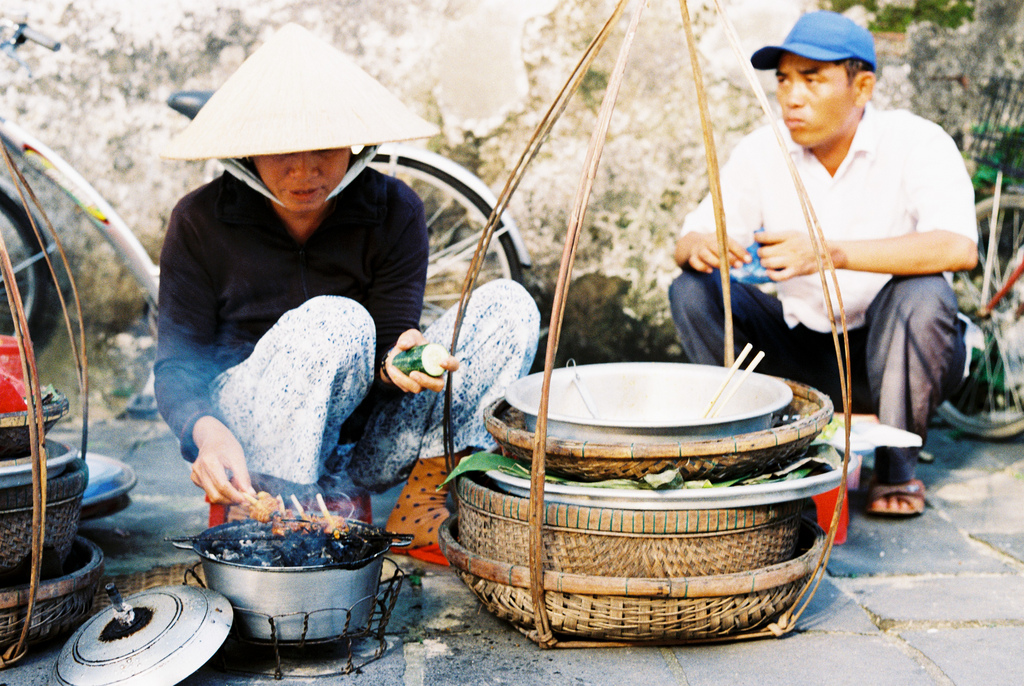 How to cook Hoi An grilled pork -thit nuong?
Firstly, they soak the tripe from the pig into water with a little salt and lemon juice in 30 minutes to clean it. Next, the pork tripe is dipped into hot water in 2 minute to make it soft so that it will not too tough when being grilled. Then, it is taken out and cut into 3cm chunks. After that, they mix the pork tripe with spices, ground garlic and lemongrass, and turmeric juice. Lastly, they grill them till the grease from the inside of pork tripe boils, the tripe turns yellow and a smell comes out from these things. That is the time they can enjoy the fantastic flavor of grilled pork tripe.
Read more  the temple of literature
Check Shane Brierly's video to see how local people enjoy Hoi An Grilled Pork on street. Hanging out with friends and eating street food is something like a routine of the local people here whenever they have free time. Of various foods on the street, grilled pork tripe sometimes is the wise choice. Particularly, the grilled pork tripe is the best choice for those who want to drink beer or wine, especially in cold weather. The sweet, spicy, tough and soft combination makes a great addition to any meal.