The festival of Huynh Cung Village
The Huynh Cung communal house is located in Tam Diep commune, Thanh Tri district, hanoi vietnam city.
The communal house worships General Hong Bac and General Uy Mang who were two children of 17th King Hung. According to ancient document of village, both general were excellent in martial art and very good health and had merit of contributing the country, therefore; they were knighted as josses and became Town Gods of this village. The communal house also worships Chu Van An who had great merit to Huynh Cung villagers. The festival is annually organized within 4 days from 18thto 21st of January (lunar calendar) to honor the Town gods and Chu Van An.
On the morning of 18th, a team is appointed to mop statues and offerings in communal house. on early afternoon, other team of elder gathers in front of the house's courtyard and wears traditional uniform to sacrifice under solemn atmosphere.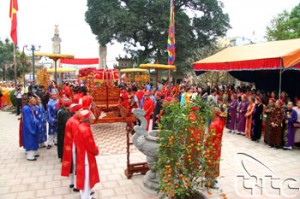 On 19th of January, organizers, families, and villagers from surrounding regions offer the sacrifice to town gods. On afternoon and at night, music performance takes place in the house's courtyard.
On 20th of January, it is main festival, the sound of drums beat noisily from early morning with program of congratulating students who get good certificate on district and town level together with families which contribute to country and village. After that is palanquin procession, ceremony at Ho Uncle statue, coming to temple to sacrifice and offer incense St. Chu Van An.
The palanquin procession is held on a large scale with participation of crowd of villagers. It opens with lion dance of martial art students in village, next procession Uncle Ho's picture by children, then a team carries offerings of families and villagers, followed by a group of priest and a final group of palanquin carried by young beautiful girls and boys in the village.
In the afternoon, villages exchange their culture, fine art and soccer at stadium of the village.
On final day, from early morning, village elders already prepare to offer the sacrifice at communal house and end the festival.
The festival of Huynh Cung village is organized on a large scale under solemn atmosphere of villagers and surrounding residents.
Read more: At Audley, our specialists have local knowledge about the top vietnam places to visit. Find out where we recommend for your next tailor-made trip.